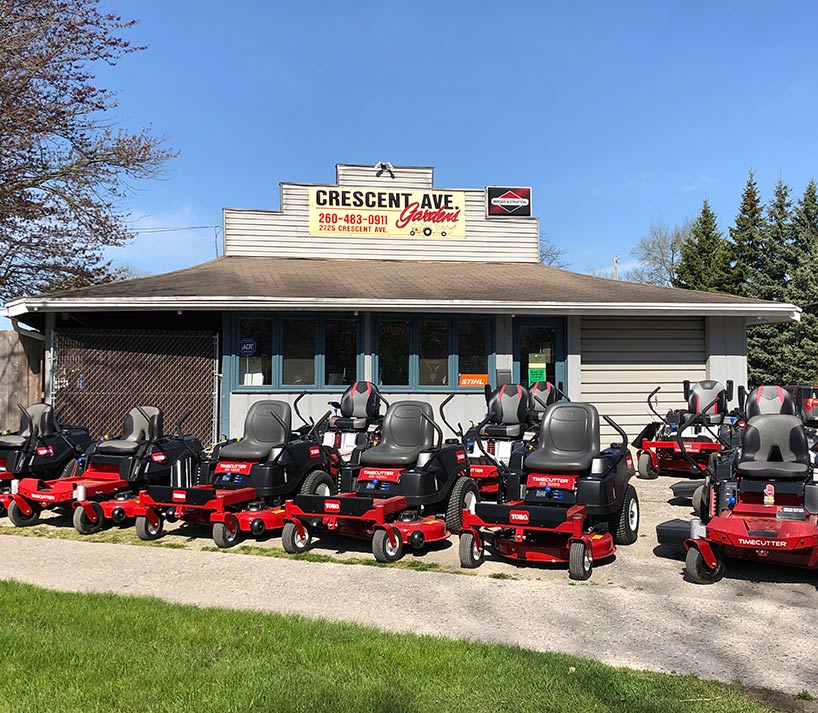 Crescent Avenue Gardens
Fort Wayne Outdoor Power Equipment
For years our customers have turned to Crescent Avenue Gardens in Fort Wayne for outdoor power equipment sales and also when they've needed equipment serviced or repaired.
We carry a large selection of lawn and garden equipment including
We carry only the top outdoor power equipment brands such as Toro, Stihl, and Billy-Goat.
Stand-Alone Lawn Equipment Dealer
In 1959, when Crescent Avenue Gardens first opened, there were many similar types of stores in neighborhoods all over town. Today, finding a stand-alone lawn equipment dealer that sells and services the top brands is quite rare.
Added Value
People think that the home stores and discount stores sell power equipment for less. More often than not, the same equipment costs the same or less at Crescent Avenue Gardens. Plus, you get your equipment set up and serviced before the sale at no additional cost. We'll even deliver it within the Fort Wayne area. That's something you won't get at most other stores!
If you bought a mower from Crescent Avenue Gardens ten years ago, you probably talked with Gayle or Gary. If you come back today, you'll probably talk with Gayle or Gary. When you come back in ten years, you'll still find Gayle and Gary, and most of the same crew that works here today.
Outdoor Power Equipment Sales & Service
We know and trust everything we sell. We service, repair, and carry parts for everything we sell even power equipment that was purchased elsewhere. That's the kind of store we are: personal, professional, and always interested in helping you find the right power equipment to suit your needs.
Stop in today to see for yourself why Crescent Avenue Gardens has been Fort Wayne's trusted outdoor power equipment dealer for over 60 years.