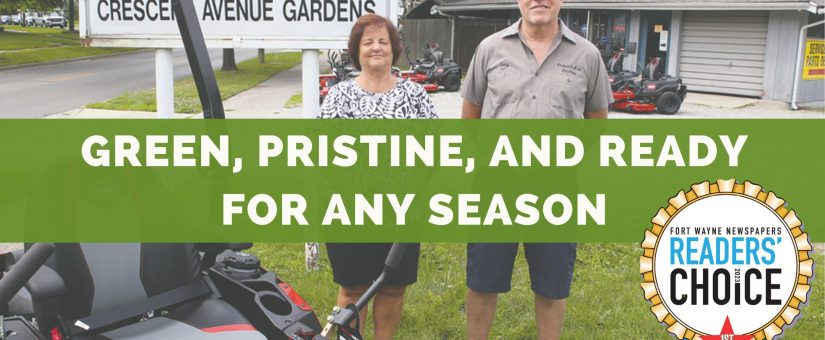 How Crescent Avenue Gardens Became Fort Wayne's Best Lawn Equipment Dealer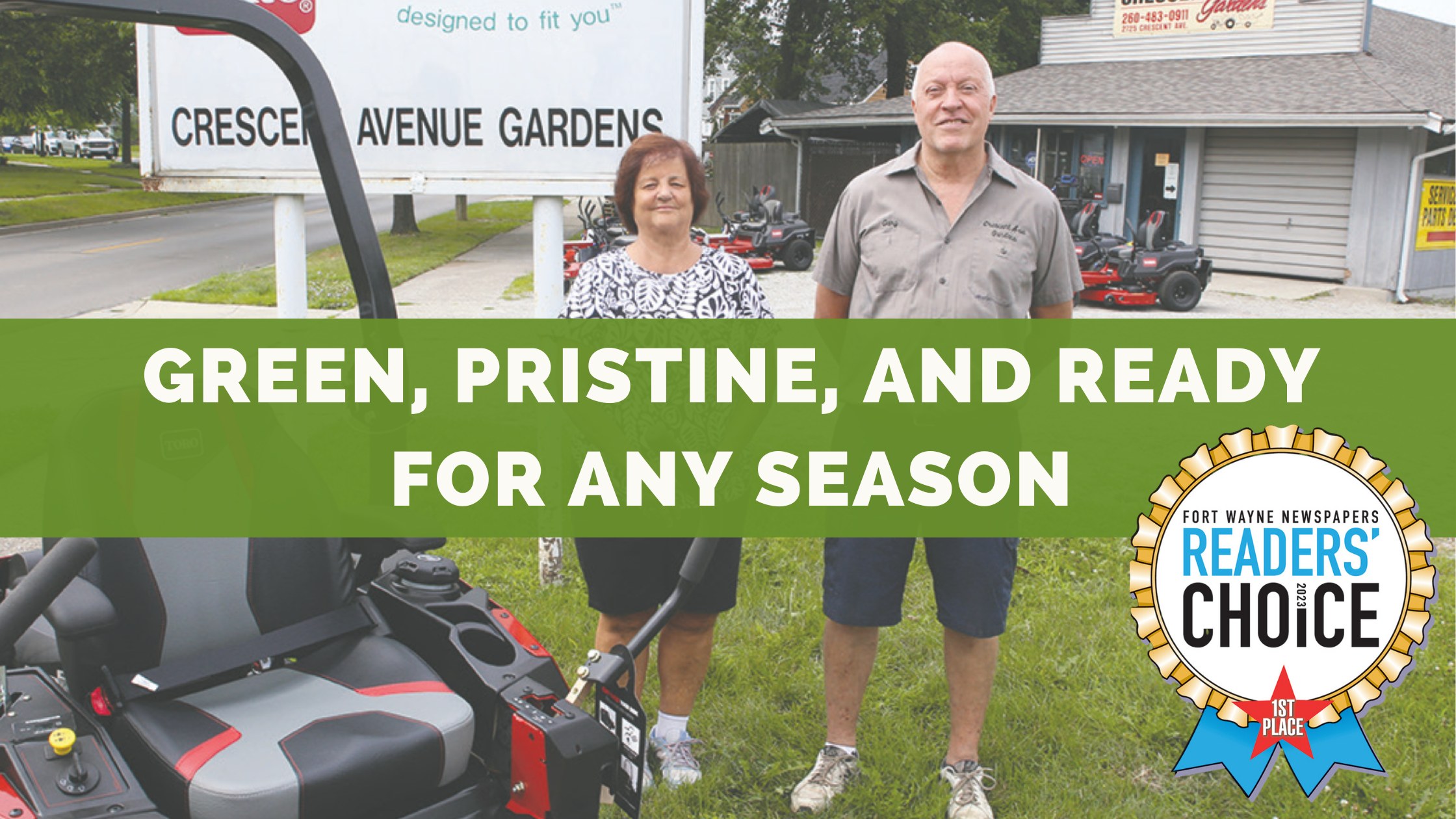 Green, pristine, and ready for any season. That's the promise Crescent Avenue Gardens has made and kept to the Fort Wayne community for over 64 years. It's this promise that has solidified its reputation as the go-to destination for the best lawn equipment in town. So, it is no surprise that Crescent Avenue Gardens has once again been honored with the Reader's Choice Award for Best Lawn Equipment Dealer in Fort Wayne for the 14th consecutive year.
How did Crescent Avenue Gardens become Fort Wayne's Best Lawn Equipment Dealer? By consistently providing top-quality products, exceptional customer service, and a genuine commitment to the community they serve.
A Community of Support
What is the secret to their success? Simple. Their amazing customers who have loyally supported this locally-owned business year after year. These customers are the reason why Crescent Avenue Gardens is always buzzing with activity, filled with the humming of lawnmowers, the whirring of trimmers, and the whizzing of chainsaws.
But it's not just about the transaction. Crescent Avenue Gardens values the relationships they've built with their customers over the past 64 years. They've witnessed generations of families coming through their doors, each with their own unique lawn care needs. These customers aren't just patrons; they're a part of the Crescent Avenue Gardens family. The staff takes the time to get to know each customer, understanding their needs and providing personalized recommendations.
It's this commitment to customer satisfaction that has created a strong sense of community around Crescent Avenue Gardens. Customers know that when they shop at Crescent Avenue Gardens, they're not just buying a great product; they're investing in a relationship with a business that genuinely cares about them and their lawn care needs. This sense of community is what keeps customers coming back year after year.
And that's the thing about Crescent Avenue Gardens – they love their customers just as much as their customers love them. They take pride in being a part of the Fort Wayne community, and they understand the importance of giving back to the community that has supported them for so many years. That's why they go above and beyond to make sure their customers are happy because, at the end of the day, a happy customer is a returning customer.
Best Lawn Equipment Brands
The shelves and aisles of Crescent Avenue Gardens are stocked with top-of-the-line products from renowned brands like Toro and Stihl, ensuring that customers have access to the best equipment available.
One noteworthy addition to their inventory is the range of battery-operated products from Stihl, including chainsaws, hedge trimmers, line trimmers, lawnmowers, and blowers. This surge in interest in these battery-powered tools signifies an industry-wide pivot away from traditional gas-powered equipment. "Stihl came out with a new line of battery tools, and it's truly making waves this year," remarks store manager, Gayle Shuster, highlighting the increasing demand for sustainable, efficient, and user-friendly solutions.
They offer more than just a wide variety of products; they offer solutions for every lawn care challenge. Need to tackle overgrown grass or sculpt your hedges into perfection? Their top-notch lawnmowers and hedge trimmers have you covered. What about preparing your lawn for the changing seasons? No problem, their powerful chainsaws will help you manage falling branches and keep your yard neat and tidy. And when fall comes around, their robust leaf blowers will ensure your yard remains leaf-free and looking immaculate. Crescent Avenue Gardens is your one-stop shop for all your lawn care needs.
Our Commitment to Customer Service and Expert Repairs
But it's not just about the products. What truly sets Crescent Avenue Gardens apart from the competition is its exceptional customer service and on-site service department. The expert staff at Crescent Avenue Gardens is always ready to assist you in choosing the right equipment for your specific needs. They're not just salespeople; they're knowledgeable professionals who are passionate about lawn care and helping you achieve the perfect lawn. With their guidance, you can feel confident that you're making an informed decision and investing in equipment that will serve you well for years to come.
Whenever your equipment requires maintenance or repair, the experienced, master-certified technicians at Crescent Avenue Gardens are at your service, prepared to assist with everything from routine check-ups to more complex repairs. Their extensive training and hands-on expertise ensure that your equipment is in the best possible hands, while their commitment to customer satisfaction guarantees that every repair is done right, ensuring your lawn care tools are always ready when you need them.
Gary Karst, owner and master-certified technician at Crescent Avenue Gardens, emphasizes the importance of this commitment to quality service. "Our customers are the reason we're here, and we take pride in making sure they leave our store satisfied. Whether it's helping them find the perfect product, or providing expert repairs, we strive to exceed their expectations in every aspect."
With their support, you can have peace of mind knowing that your investment is protected, and your lawn will always look its best. Their attention to detail and commitment to customer satisfaction is what keeps customers coming back year after year. After all, a beautiful lawn isn't just about the right equipment; it's about having the right partner to guide you along the way, and that's exactly what you'll find at Crescent Avenue Gardens.
Best Lawn Equipment Dealer in Fort Wayne
So, here's to another year of keeping Fort Wayne green, pristine, and ready for whatever Mother Nature throws our way. Thank you to all the amazing customers who have made this possible. Crescent Avenue Gardens is proud to be your choice for the best lawn equipment dealer in Fort Wayne. Here's to many more years of serving you and the Fort Wayne community.
We invite you to visit our store to see firsthand why we are the top choice for lawn equipment in Fort Wayne. Whether you're in need of new equipment, repairs, or just some expert advice, our knowledgeable staff is here to help. Come see us today and experience the Crescent Avenue Gardens difference for yourself!