CRESCENT AVENUE GARDENS DONATES SNOWBLOWER TO ALLEN COUNTY SPCA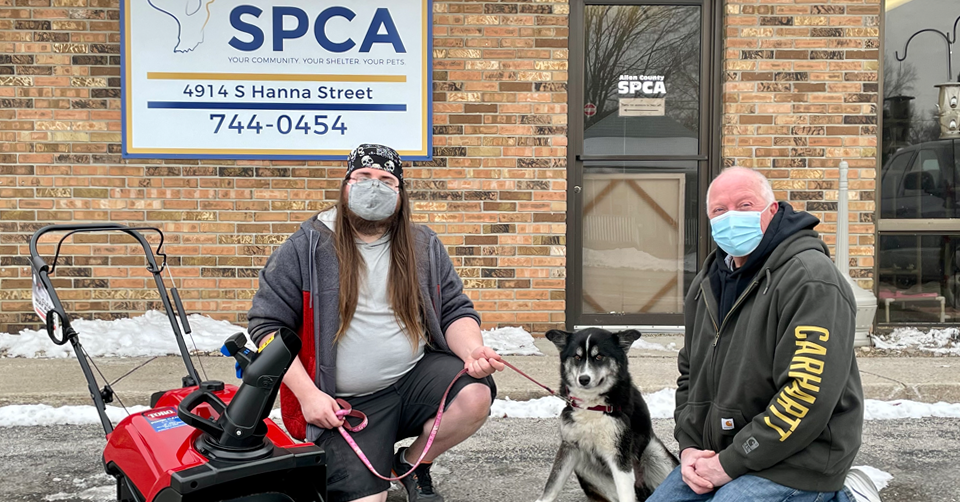 Kenny Bernier – Maintenance at the SPCA, Mina – adoptable dog, and Gary Karst – Owner of Crescent Avenue Gardens[/caption] Facebook that the Allen County SPCA needed a snowblower, one local business stepped in to help. Crescent Avenue Gardens, Fort Wayne's leading outdoor lawn equipment dealer, has long been committed to helping their community care for their outdoor spaces and wanted to help the animals and people at the SPCA as well. Wednesday morning they did just that. They presented a brand new Toro 18" snowblower to Jessica Henry of the Allen County SPCA. "We love animals and our community," said Gary Karst, owner of Crescent Avenue Gardens. "When we heard that the Allen County SPCA was in need of a snowblower, we wanted to do something good for a local business that does so much good for the animals and our community. The snowblower will be put to work around the perimeter of the shelter and on the sidewalks around the play yards. Outdoor time and leash walks play an important role in the shelter dogs' happiness and adoptability. We are so grateful to Crescent Avenue Gardens for their generous support of people and animals at the Allen County SPCA!" states Jessica Henry, Executive Director of the Allen County SPCA. "We know the dogs and the volunteers who walk them are going to be much happier with the sidewalks and paths cleared of snow." Having safe, clear sidewalks will ensure that the dogs stay active and healthy and that the SPCA staff and volunteers can spend less time out in the cold shoveling snow and more time caring for the animals. Gary Karst added, "Neighbors should help neighbors when they can, especially during this trying time." To adopt a pet from the Allen County SPCA, visit them at www.AllenCountySPCA.org.
About Crescent Avenue Gardens
For over 60 years, homeowners and commercial landscapers have trusted Crescent Avenue Gardens for sales, parts, and service of outdoor power equipment including lawnmower, chainsaws, leaf blowers, trimmers, snowblowers, and more. Voted best lawn equipment dealer in Fort Wayne, Crescent Avenue Gardens is committed to providing the best equipment at the best price along with expert advice and service that you can't find at big box stores. For more information on products and service visit www.CrescentAvenue.com or visit them at 2725 Crescent Avenue in Fort Wayne, IN.