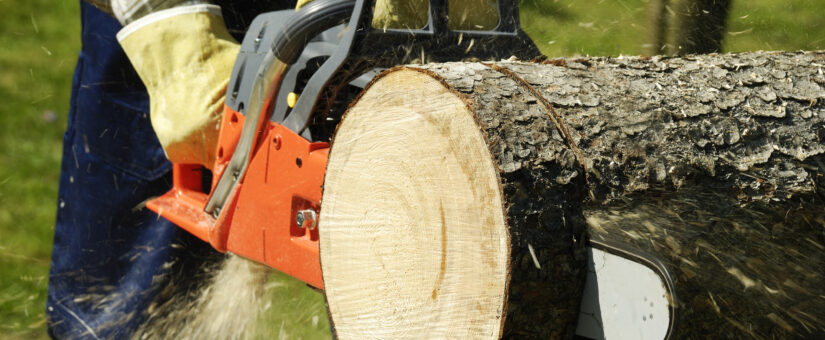 5 Chainsaw Maintenance Tips to Keep Your Chainsaw Running Perfectly
When your chainsaw isn't functioning correctly, it's not just inefficient; it can be dangerous.
A sharp, well-running chainsaw shouldn't give you any grief. But keeping it that way can be difficult and time-consuming. From ensuring the filters are clean to sharpening the blades, your chainsaw requires a decent amount of maintenance to keep it cutting the way it should. 
If you know it's time to tune-up your chainsaw, here are a few chainsaw maintenance tips to keep in mind. 
1. Save Time and Bring It to a Professional
We know you're busy; that's why Crescent Ave. Gardens offer chainsaw repair services for all your needs. 
Got a full day of lawn work to do and don't feel like fooling around with that finicky chainsaw? No problem, drop it off with us, and we'll have it tuned up and ready again in no time!
Not only can it save you time, but having it serviced by the lawn experts at Crescent  Ave. Gardens can also make sure that it's done right the first time around. 
2. Keep Your Blades Sharp and Secure
Sharp chainsaw blades get the job done better and faster. A dull chainsaw shouldn't hold you back from ripping through tree trunks or branches! Keep your blades sharp and replace them when they're old and worn. 
But even the sharpest blades are no good if the tension of your blades is off. Too tight, and you'll break the tool, too loose, and the chain might fly off the guide bar.
Adjust the tension on the chainsaw so that when holding it, the chain doesn't sag. The chain should be tight enough that the drive links remain on the guide bar, but not so tight that there isn't any give in the chain.
3. Use Fresh Gas
If your chainsaw is primarily used for residential purposes, there can be some seasons when our chainsaw doesn't get used as often.
In these cases, don't use leftover gas from who knows how long ago; replace the old stuff with fresh gasoline. This will help your chainsaw run more smoothly and extend its lifespan.
4. Clean and Replace the Air Filter as Needed
Keeping your air filter clean will ensure that sawdust and dirt don't end up clogging your engine or putting excessive wear and tear on your tool.
You can do this by dusting it off or rinsing it with water. Once it's dry, replace the filter, and your chainsaw should be less congested. 
If your chainsaw goes through regular use, you'll also want to do this so that you know when it's time for a replacement filter.
5. Make Sure It's Always Lubricated
Lubrication is one of the first things you should check when maintaining your chainsaw. Always make sure to use a chainsaw-specific bar oil and keep the chain and bar lubricated during use.
This relieves friction with the bar and chain and gives you stronger and more efficient cutting power.
Chainsaw Maintenance Made Easy
Your chainsaw can live a long and happy life chopping up trees and branches—if you're taking proper care of it. These must-know chainsaw maintenance tips will ensure it's running for years to come. 
And for professional help getting your chainsaw back up and running, visit us at Crescent Ave. Gardens. Our professionals can service and repair your chainsaw back to its former glory. You can also stop by for replacement chainsaw parts and when buying a chainsaw!
For questions or supply inquires, give us a call or visit us in-store!