Best Lawn Equipment Dealer in Fort Wayne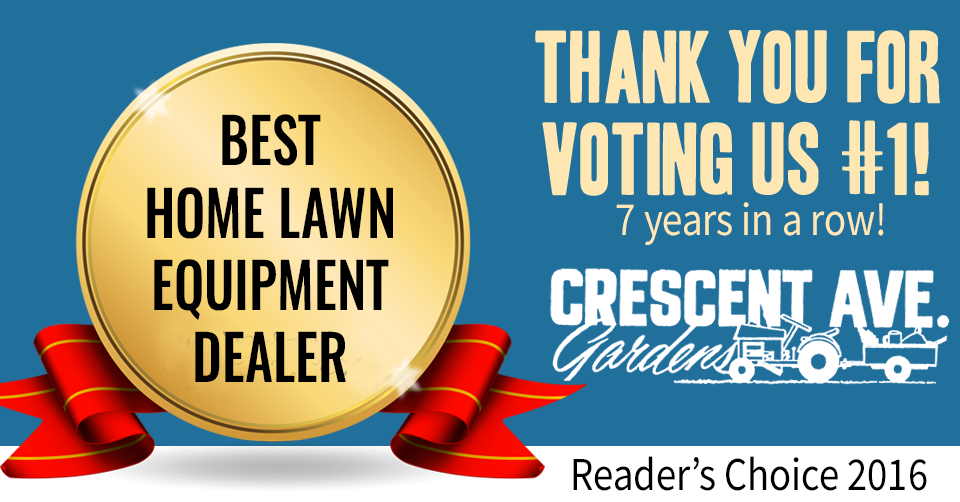 You've done it again! You've made us very happy and we're honored to have have been named the Best Lawn Equipment Dealer in Fort Wayne in the home category of the Reader's Choice Awards. For 7 consecutive years, you've voted Crescent Avenue Gardens the best place to buy Zero-Turn Mowers, Snow Blowers, Leaf Blowers, Chainsaws, and more in Fort Wayne! But, don't think the feelings are one-sided. We think our customers are the BEST as well and we want to thank everyone who voted for us in Fort Wayne Newspaper's Reader's Choice Awards.
Below is our article from the Reader's Choice Supplement in the Journal Gazette.
Service is profession at Crescent Avenue Gardens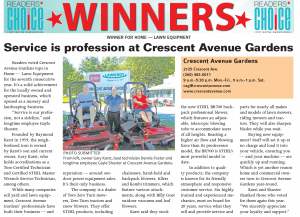 Readers voted Crescent Avenue Gardens tops in Home — Lawn Equipment for the seventh consecutive year. It's a solid achievement for the locally-owned and operated business, which opened as a nursery and landscaping business.
"Service is our profession, not a sideline," said longtime employee Gayle Shuster.
Founded by Raymond Karst in 1959, the neighborhood icon is owned by Karst's son and current owner, Gary Karst, who holds accreditations as a Toro Certified Technician and Certified STIHL Master Wrench Service Technician, among others.
While many companies sell yard and lawn equipment, Crescent Avenue Gardens' professionals have built their business –– and reputation –– around outdoor power equipment sales. It's their only business.
The company is a dealer of Toro Zero Turn mowers, Zero Turn tractors and snow blowers. They offer STIHL products, including chainsaws, hand-held and backpack blowers, tillers and Kombi trimmers, which feature various attachments, along with Billy Goat outdoor vacuums and leaf blowers.
Karst said they stock the new STIHL BR700 backpack professional blower, which features an adjustable, telescopic blowing tube to accommodate users of all heights. Boasting a higher air flow and blowing force than its predecessor model, the BR700 is STIHL's most powerful model to date.
In addition to quality products, the company is known for its friendly atmosphere and responsive customer service. Six highly trained and experienced mechanics, most on board for 20 years, service what they sell and provide service and parts for nearly all makes and models of lawn mowers, riding mowers and tractors. They will also sharpen blades while you wait.
Buying new equipment? Staff will set it up at no charge and load it into your vehicle, ensuring you –– and your machine –– are quickly up and running. Which is yet another reason home and commercial owners turn to Crescent Avenue Gardens year-round.
Karst and Shuster thanked those who voted for them again this year. "We sincerely appreciate your loyalty and support."